A Proven Leader...
January 20, 2005, East Moline, IL - Here's Mayor Moreno on the air at WOC Talk Radio with host Dan Kennedy. WOC had a different Mayor on every day for a week with a special edition called "Mayor's Week". Joe talked about issues, goals and challenges for the City of East Moline as well as answer questions from callers. He did get a lot of 'fun hostility' about his Boston Red Sox cap as Dan is a big Cardinals fan. Moreno stated he's a big fan of Boston (the City), (the Marathon) and (the people) more than the Red Sox team. Mayor Moreno was in Boston for the DNC last July.
---
Joe Goes Door-to-Door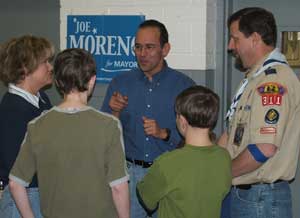 January 19, 2005, East Moline, IL - Mayor Joe Moreno is paying a visit to the residents of East Moline for the next month as he goes door-to-door, personally asking people to vote on Feb. 22.
---
Pancake Breakfast Success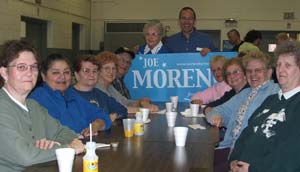 January 15, 2005, East Moline, IL - Hundreds of Moreno supporters came out on a cold Saturday morning to mark the occasion by filling up on pancakes and warm coffee! Photos >>
---
Mayor Moreno Nurtured by 40 Moms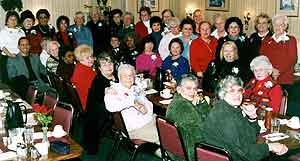 December 21, 2004, East Moline, IL - Joe Moreno "moms" turned out for a luncheon at Windmill Family Restaurant in East Moline. Story >>
---

Joe on the Issues:
:: taxes, services and user rates
:: streets, alleys and infrastructure
"Joe's built strong relationships with our state legislators and senators, his commitment to our community is second to none."
~Rory Washburn
Tri-City Building Trades