Valentine's Day Dinner and Dancing
January 31, 2005 - Tickets are available for the Valentine's Day Dinner and Dancing fundraiser on Feb. 12 at the VFW in East Moline. More info here >>
---
Senator Dick Durbin Visits QC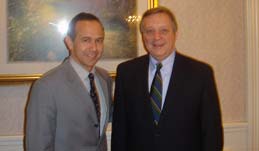 January 28, 2005 - U.S. Senator Dick Durbin and Mayor Joe Moreno discussed local and state-wide issues and concerns during a breakfast event.
---
A Letter from Joe
January 27, 2005 - "I have been truly honored to have served my City in the capacity of your Mayor. Having served 16 years on the City Council I have come to know 1st hand the needs and desires of our community." >>
---
Nor Rain, Nor Snow, Nor Sleet ...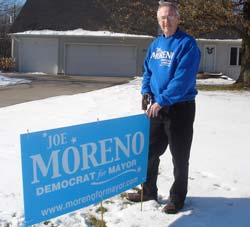 January 23, 2005, East Moline, IL - The "Moreno for Mayor" yard signs went out on Saturday, Jan. 22 as planned without a hitch. Moreno for Mayor sign chairman Dave Womack (pictured) didn't hesitate to brave the cold in his "Joe Moreno for Mayor" sweatshirt.
Donate to the "Moreno for Mayor" campaign >>
---
Breakfast Crew Supports Moreno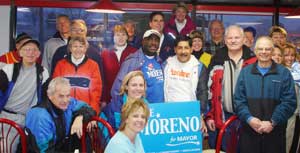 January 22, 2005, East Moline IL - East Moliners were up early Saturday to support the Moreno for Mayor campaign. More photos >>
---
Moreno Sees Future Growth for the City
January 21, 2005, East Moline, IL - Even though Mayor Moreno acknowledged that times are tough, he sees plenty of growth in the future for the City of East Moline. Read the story from the Dispatch/Argus >>

Joe on the Issues:
:: taxes, services and user rates
:: streets, alleys and infrastructure
"Joe's built strong relationships with our state legislators and senators, his commitment to our community is second to none."
~Rory Washburn
Tri-City Building Trades